How to Volunteer and Help After a Natural Disaster
Hurricanes Irma and Harvey have left many of us wondering what we can do
I arrived on St. Croix, a U.S. Virgin Island, in September 1989, almost two months after Hurricane Hugo made landfall as a Category 4 storm. As I peered out of the airplane window, the first thing I noticed was that the once-lush vegetation lining the airport runway was sepia-toned, and several twin-engine airplanes had toppled belly up and were still strewn across the airfield.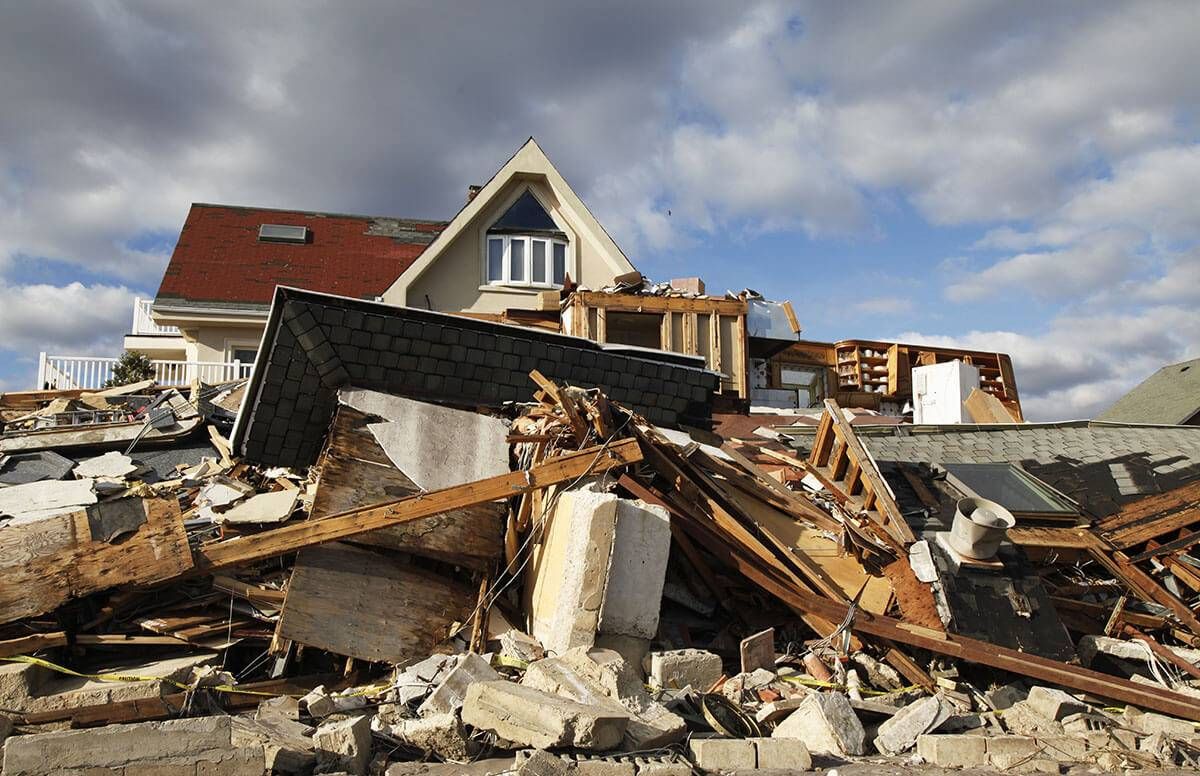 Every time a hurricane takes aim at the U.S. I am reminded of that storm, and that island, where I did my first disaster assignment for the American Red Cross (I worked as a paid "disaster specialist" for the New York chapter). When I saw that Hurricane Harvey had wreaked havoc in Houston and Irma slammed into Southwest Florida two weeks later, my first instinct — shared by many — was to get in the car and drive toward the disaster scene, even as others flee.
"That's the last thing they need," said Zach Wolgemuth, chair of the board of directors of National Voluntary Organizations Active in Disaster (NVOAD). Self-deploying can add to the chaos and be unsafe. Sending in-kind donations like water and clothing is also ill-advised, Wolgemuth said.  
Instead, if you'd like to help people affected by Hurricanes Harvey and Irma, a good place to start is NVOAD, a network of agencies with more than 60 member organizations nationwide, of which roughly 50 are on the ground in Texas and Florida. "It's a wonderful patchwork quilt of help that comes from so many organizations," said Dan Halyburton, a volunteer spokesperson for the American Red Cross, a member group.
Joining the Natural Disaster Volunteer Efforts
NVOAD is mobilizing volunteers for Hurricane Harvey relief efforts, and in the coming weeks, volunteers will be deployed to help areas affected by Irma.You can select the region where you'd like to volunteer — Florida, Texas, Puerto Rico or the U.S. Virgin Islands, as well as a particular agency you would like to volunteer for, although Wolgemuth advised people who are already affiliated with a NVOAD member agency to contact that group directly. You can also specify when you are available and if you have special skills to lend to the relief effort, like language skills. 
The idea that volunteers are all young, strong and capable of mucking out mud is false. And the list of activities volunteers engage in is extensive, including behind the scenes work. "The majority of our volunteers with a number of our member agencies are at a stage in life when the kids are out of the house and they may be retired and can commit to this type of disaster relief effort," said Wolgemuth.
In the aftermath of Hurricane Katrina, the Red Cross launched an unprecedented program to welcome thousands of new volunteers into its ranks; they were trained and deployed in a matter of days. However, with Harvey and Irma, Red Cross and other organizations aredepending primarily on their trained staff and volunteers — for now.
"Some people who register might not be called on to deploy or they might get called on months from now," said Halyburton, who recommended that anyone interested should sign up on RedCross.org or call the local chapter and "get in the system."
Florida Governor Rick Scott put out a call for 17,000 volunteers as Irma was bearing down on the state, and 36,000 people have already registered through the state's website for volunteer recruitment, Volunteer Florida.
Help Will Be Needed Later
Keep in mind that large disaster relief operations can take time to organize. When I landed on St. Croix nearly two months after the storm, residents were still standing in lines waiting to receive basic supplies. I have covered Hurricane Georges in Alabama and Mississippi, and my work took me to California after the 1994 Northridge earthquake, New York after 9/11, and Louisiana after Hurricane Katrina. I am certain those affected by the recent storms will need assistance long after our attention moves on to some other tragedy or news event (witness how little we hear about Harvey now — and the storm hit Texas only three weeks ago).  
The needs not only persist, but they change throughout the recovery, which is why it's been said that recovery work is a marathon, not a sprint.
Many NVOAD agencies specializing in the latter stages of a disaster are faith-based groups like United Church of Christ, where Wolgemuth serves as executive of disaster ministries. It is still working in Florida almost a year after Hurricane Matthew.
"Months from now, our members will still be on the ground helping as residents try to put their lives back together," he said. "We do a lot of work after news cameras are gone."
People want to help in concrete, meaningful ways, but the most effective way to assist initially is to make a charitable contribution. (In 2013, Next Avenue published a story about lessons learned about charity following Hurricane Sandy with many points that hold true in the aftermath of the current disasters. And in 2016, our sister site, Rewire,  published an excellent article on assisting with disaster relief. ) 
The first organization that comes to mind is the American Red Cross, but a Congressional report and investigations by Propublica and NPR into Red Cross fundraising and disaster relief practices — the latest in a string of criticisms following national disasters — have left some donors looking elsewhere. 
At the same time, many people are comforted by the organization's long and robust history: Red Cross workers have been on the scene of every major disaster in the U.S., and many smaller ones, since Teddy Roosevelt signed a charter authorizing the agency to provide emergency relief when disaster strikes.
"The Red Cross is a victim of its own long term success," said Eileen Heisman, president and CEO of the National Philanthropic Trust. "They are really important in every community and we'd be hard pressed to replace them."
If Red Cross credibility is a concern for you, consider the "One America Appeal" launched by the five living former U.S. presidents (Bush, Bush, Carter, Clinton and Obama).
The more than 700community foundationsnationwide are also trustworthy, said Heisman. These charities are created by communities to look at their most pressing needs; they include several in Florida and Texas, two in the Virgin Islands and one in Puerto Rico. 
A Virgin Islands community foundation has set up a website, USVIrecovery.org. "You can rest assured that any gift to a community foundation is 100 percent getting to people in need," said Heisman. "You don't have to worry about fraud."
In fact, it's fairly easy to earmark your money for a specific relief effort or region, like the U.S. Virgin Islands, where recovery may take longer partly because transporting supplies is more difficult.
Country singer Kenny Chesney, whose St. John home was badly damaged, has set up a foundation to fund Hurricane Irma relief in the U.S. and British Virgin Islands. And former NBA star Tim Duncan of St. Croix has already collected more than $2 million on Youcaring.org, which allows donors to earmark contributions for a specific region or cause (Duncan is matching donations up to $1 million).
PayPal set up a fund where 100 percent of donations go to support one of several charities, including St. John Rescue, a nonprofit established two decades ago, which is providing emergency rescue and medical support.
If you are interested in international disaster relief to help islands like St. Maarten/St. Martin, a Caribbean island with a dual Dutch/French heritage hard hit by Irma, one resource is the Center for International Disaster Information, which has posted on its site a list of organizations responding to Hurricane Irma.
States often set up their own private funds to support response and recovery efforts. Florida Disaster Fund, the state's official private fund, provides an easy way to donate online to help Florida's clean-up and recovery. Donors are assured that 100% of the funds go directly to help victims of the hurricane.
If you're reluctant to donate to a large organization, consider the local chapter of a national one like the United Way. "Organizations with people in the community are often very good places to start because they know where people in need are and where the damage is, because they are already on the ground," said Heisman.
She also advises vetting a local group to verify that it is legitimate. Spend at least as much time as you would making an online purchase or researching a restaurant to book a reservation. "Try not to make an impulsive gift to anybody," said Heisman. "You can learn a lot in fifteen minutes."
Heisman cautioned that donors should not trust a link in an email soliciting money for disaster relief. Scammers usually create a phony name that sounds legitimate. "Do not give over the phone, she added.  "You have no idea where the money is really going."
Heisman advises giving part of your donation early on and then waiting six or 12 weeks to give again to areas affected by natural disasters. Recovery happens in phases, and needs change over time. "In a disaster, you get a big spike in the beginning and then it falls off," she said. "It's going to take a long time to rebuild these communities."
Long after shelters and mobile feeding stations have closed, schoolchildren will return to barren buildings, teachers will need supplies and communities will need to be rebuilt. One place to turn to several months from now is Kiva.org, which provides microlending to small businesses.
"People will want to be employable," said Heisman. "So getting businesses back on their feet will be a really important part of this."
Michele Turk
is a writer whose work has appeared in Parents, Parenting, BusinessWeek, USA Weekend, Glamour, Elle, The Washington Post and Brain, Child. She is the author of Blood, Sweat and Tears: An Oral History of the American Red Cross and is writing a memoir about parenting a child with Tourette Syndrome. Michele recently took over as president of the Connecticut Press Club.
Read More