12 Surprising Benefits of Zumba Workouts
When workouts are fun, we look forward to them, rather than dread them
I was never a fan of exercise (or anything requiring too much exertion or sweat) while growing up. Always the last to be picked for teams in my middle-school gym class, I preferred sitting on the sidelines while my classmates competed in push-up marathons and relay races.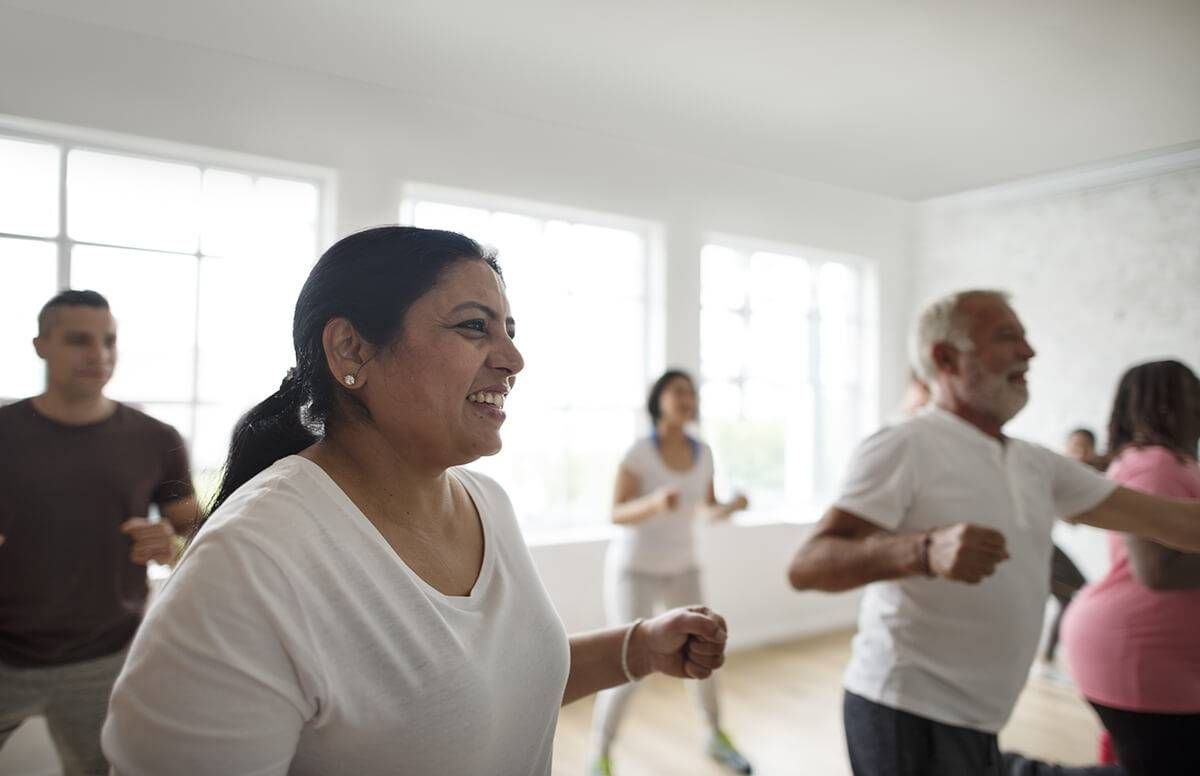 It wasn't until Jane Fonda burst on the scene with her aerobic video workouts in the 1980s that I decided exercise might be fun if it involved dancing to high-energy music. I donned my leotard, leg warmers and Reeboks and joined an all-female aerobics class at the local gym.
Those morning workouts were an essential part of my fitness routine for many years, until the aerobics dance craze dissolved and I got bogged down with work and raising four children.
The onset of menopause, combined with a sedentary lifestyle, caused me to gain a substantial amount of weight by the time I hit 55. During this time, I also felt tired and depressed all the time with zero motivation to improve myself.
Zumba Combines Aerobics with Resistance Training
Five years ago, a few of my friends told me about a new gym nearby and raved about Zumba, a dance-based fitness class that combines aerobic exercise with resistance training. Zumba classes are popular throughout the country. My friends' enthusiasm for the program piqued my interest, and although I found the competitive nature of most co-ed gyms intimidating, I knew I needed to do something before I ultimately succumbed to living like a sloth.
The philosophy behind Zumba is to have fun while you exercise; to embrace your body and to feel good about yourself.
The first Zumba class I attended was filled mostly with women of all shapes, sizes and ages in a body-positive atmosphere that immediately put me at ease.
The philosophy behind Zumba is to have fun while you exercise; to embrace your body and to feel good about yourself while you're dancing. No matter where you live in the world, the classes are designed to make you feel happy and healthier rather than worrying about your appearance.
To my surprise, after a few weeks of attending classes, I discovered that Zumba was not only an enjoyable way to exercise, but also had multiple benefits that improved my physical and mental wellbeing.
Since I started doing Zumba, I've learned how to salsa, mambo, samba and merengue, and I have more energy now than I ever imagined I would at 60.
Here are 12 benefits you can look forward to when you join a Zumba class:
Fun while you exercise: Zumba is an enjoyable way to improve your physical health in an energetic, upbeat atmosphere. The classes promote body positivity, with an emphasis on having fun and feeling good about yourself. The idea is that you don't have to look or move like others in the class, because there is no right or wrong way to dance. I don't feel like anyone in the class is watching or criticizing me; they're focused on their own workout and having fun. And, because it's fun, the hour goes by quickly, which makes me look forward to exercising, rather than dread it. This helps me stick to a healthy workout routine instead of making excuses to skip the gym.
The cardio is good for your heart: Dancing, like any cardio workout, gets your heart rate up, which helps you maintain a healthy cardiovascular, respiratory system. It's also great for building endurance since most of the songs played during class are around 145 beats per minute.
Total body toning: The classes engage every muscle group in specific dance moves, along with squats and twists to tone your entire body.
Uplifts mood and relieves stress: Cardiovascular exercise releases the highest amount of mood-improving endorphins and neurotransmitters that can signal positive thoughts and eliminate stress. Zumba also helps boost energy levels, improving both alertness and concentration — something many of us feel a decrease in as we get older.
Weight loss: If your goal is to lose weight, Zumba workouts help to increase your metabolism, burning 600 to 1,000 calories per class (the rate varies depending on the intensity of your workout). A faster metabolism equals faster results in weight reduction.
Improves balance, coordination and posture: As with most forms of dancing, your limbs are moving in different directions, and that takes coordination. You might feel awkward doing it at first, but the more you practice, the better you'll get at following the dance steps and developing a sense of rhythm.
It's easy on the joints: With bone density and joint support decreasing as we age, Zumba's low-impact workout is easy on the knees. However, you can wear soft knee braces during class for extra protection if you feel you need it. The good news is if you attend classes regularly, you'll notice increased flexibility over time and a wider range of motion.
Boosts self-confidence: Zumba involves self-expression through dance and a deeper sense of your body's abilities. After doing it for a while, I began to feel better about my overall health as I built up my cardiovascular fitness and toned my body, which in turn boosted my self-confidence.
You can exercise at your own pace: With Zumba, you can modify the movements to suit your level of comfort. As your ability improves, you can increase your workout level in a more advanced class.
Keeps the brain sharp: The dance patterns of Zumba challenge your hand-eye coordination and right-left brain activity. Similar to dancing the Macarena, your arms are doing something entirely different than your legs and these movements require good memory skills to repeat the sequenced steps correctly.
Variety of class types: There are different classes for every level in Zumba, so it's easy to find one that will suit your needs. Some of these options include: the standard Zumba class, the most common type with a combination of ages from young adult to 70 and older; Zumba Gold, for older adults; Aqua Zumba, a workout done in a pool and STRONG by Zumba, for spot toning.
Encourages social interaction: This has been my favorite part of Zumba. I've met a lot of fun people who share the same health goals as me, and I've made friends.
If you're still feeling a bit intimidated about joining a class, there are plenty of free Zumba videos online to help you practice and get accustomed to the movements. Experts recommend that you do three to four classes per week to receive the full benefits of the workouts. I would also suggest bringing a friend with you to class — the more, the merrier!
Zumba has been a game-changer for me, physically and mentally. I'll always be grateful to my circle of friends who convinced me to dust off my sneakers and salsa my way to a healthier life.
Marcia Kester Doyle
Marcia Kester Doyle is the author of the book Who Stole My Spandex? Life In The Hot Flash Lane, and the voice behind the midlife blog, Menopausal Mother. Her work has appeared in McSweeney's Internet Tendencies, The Washington Post, Cosmopolitan, Good Housekeeping, Country Living, Woman's Day and House Beautiful.
Read More