Build a Health Care Team
Primary care. Specialists. Mental health. Taking care of yourself (or a parent) takes a team.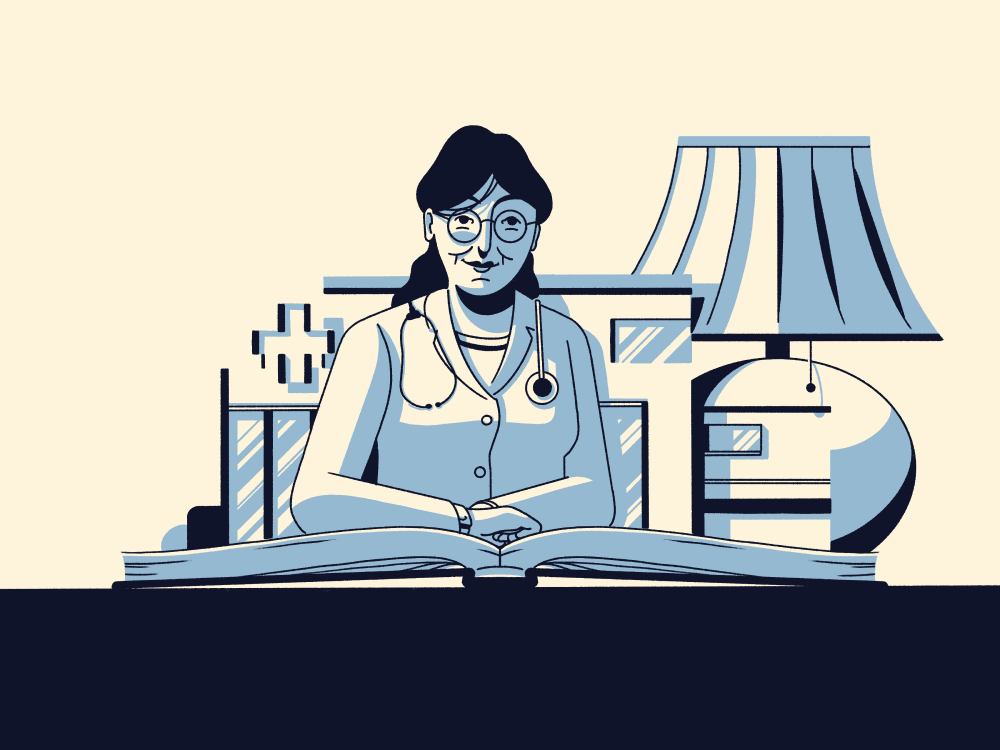 Credit: Next Avenue | John Gilman
"Most people spend more time looking for their next car than they do looking for their doctor" is an old and familiar adage among medical professionals.
But one of the most important and proactive steps to protecting your future self is building and maintaining a stable care team that nourishes and supports all aspects of your health.
If you seek out care only in crisis, you're more likely to receive care that isn't a good match or aligned with your preferences and health goals.
This guide explores how to choose a health care provider or replace a retired one, build relationships with physicians and access specialty care.
Evidence-Based Practices
To stay grounded in fact, look for physicians who rely on evidence-based practices.
An evidence-based practice has a combination of three components for medical decision making: relying on the best external scientific evidence, the practitioner's clinical expertise and the patient's preference. All health care providers should adhere to the science of their field of experience to understand the risks and effectiveness of diagnostic tests and treatments.
Care Tied to a Hospital
Dr Steve Rigdon, an internist with Southwell Medical Systems in rural Tifton, Ga., recommends finding a practice connected to a hospital rather than a niche practice without the resources of a larger system.
"Hospitals are held to the highest professional and legal standards for care," he says. "There is oversight and regimentation based on the available current research."
A new patient can always ask a doctor's office staff how their practice is connected to a hospital system. The answer should be clear, direct and easily delivered.
What Matters?
The National Institutes of Health's research on aspects of health care valued most by patients includes seven elements for "excellent relationships." These are worthy of consideration when forming a health care team:
Relationship with the physician
The provider's expertise
Access to the provider and health care facilities
Information and support that is clear and easy to understand
Coordinated communication between all involved in a patient's care
Confidentiality and sensitivity to any stigma associated with a diagnosis or treatment
Patient involvement in decision making regarding care
A Primary Care Doctor
At the top of the list is an individual's relationship with a primary doctor. It should be a good interpersonal match. To find that professional, begin with your health care insurer who issues a list of covered medical providers and mental health specialists.
A primary care doctor can be a general or family practitioner, or an internist, with an associated physician's assistant or nurse practitioner. The physician's assistant or nurse practitioner is the co-captain of your health care team and may conduct your annual physical. The doctor is often the first to diagnose an issue or concern.
Some insurance plans also cover complementary practices, including chiropractic, physical therapy, acupuncture and massage therapy.
Geriatricians are doctors who specialize in caring for people 65 and older. Ideally, anyone in this age bracket would have a geriatrician for a primary care doctor, but there are fewer than 8,000 board-certified geriatricians in the United States.
If seeing a geriatrician is appealing to you, try seeking one out in your area.
When evaluating options for a primary care doctor, consider these questions:
Will the practice accept and file your insurance?
Is the office conveniently located and easy to access?
Is the hospital covered by your insurance?
What is the doctor's treatment style? (You can call the clinic and ask)
What is their experience treating others with your conditions ?
How can you communicate with the provider outside of appointment times ?
What is their availability for urgent care needs ?
Once you've identified someone who appears to meet your needs, make an initial appointment for a consultation. Your consultation will help you discern a better sense of whether you and the physician are a good match. Remember, as you are making careful decisions, so is the doctor.
Forming a Relationship
How do you begin a relationship with a primary care doctor? Below are tips from Dr. Valerie Jagiella, Dr. Richard Lodise and Jeannie Rigdon, a nurse. Jagiella is a gastrointestinal specialist with Digestive Healthcare of Georgia and Lodise is a recently-retired anesthesiologist and pain management specialist. Rigdon recently retired from the nursing faculty at Abraham Baldwin College in Tifton, Ga.
Plan for an open and direct conversation with your doctor. "Ask your questions and talk about the hard truths," says Jagiella. "The diagnostic process moves more effectively when my patient is forthright. Learning about problems on the back end only delays treatment planning."
Be prepared to disclose critical data and information about your concerns and conditions. "Good communication between a doctor and patient depends on validating presenting symptoms," Jagiella says. "That goodness-of-fit helps both of us understand the problems that aren't always evident at first glance."
Evaluate the demeanor and personality of the physician. "A good practitioner knows different ways to communicate: 'I know there is something else going on here' offers the opportunity to move into more sensitive topics," says Rigdon.
Plan for additional appointment time for an initial consultation. "I want our patients to feel solid with their accessibility to care and to trust the depth of knowledge and experience that comes with good working relationships," says Rigdon.
Seeking a Specialist
There's great value in having coordination between the different health care you're receiving. This is particularly relevant when dealing with an ongoing ailment that requires outsourcing to a specialist, like a dermatologist, cardiologist or psychiatrist.
Here's what to to consider when directed toward specialty care:
Will the service be offered in person or virtually? Choosing a specialist can be daunting, particularly for those living in rural areas, where specialty care may be initiated electronically.
Do your homework before making an appointment."Finding a specialist requires a little detective work," says Kay Williams, Jagiella's medical assistant. "Social media now has private groups allowing for a more effective choice than 'word of mouth' or personal referral. Access these support groups by searching on Facebook by diagnosis or topic."
Take a hard copy of all records related to the diagnosis, in order of the treatment received, to be discussed with the specialist. "Without your documented history of the illness, we start over with basic diagnostics, which isn't a good use of time or resource," Jagiella says. "A specialty appointment involves a review of the entire history of treatment for the problem at hand."
Remember, it is not the specialist's role to unify all of your care. Rigdon offers this reminder: "They are looking in depth at a specific problem."
You Are Captain of the Ship
Research shows that the more we are included in care decisions, the better we fare.
Nurse Jeannie Rigdon says the best rule for working with health care providers is to ask for what you need. If you're unwell, there may be times you can't be your own advocate and will need a friend or family member to represent you.
"I see patients in the haze of 'illness brain fog' and want them to have a full understanding of any treatment planning before we initiate any kind of procedure," says Jagiella.
Such involvement includes collaboration with doctors to optimize care while retaining the final say in treatment decisions. This planning includes completion of advance directives, which are legal documents that spell out personal decisions about end-of-life care ahead of time.
Complete your living will with Next Avenue's free four-day email course that guides you through doing so.
These directives allow personal wishes to be available to family, friends and health care professionals to avoid confusion later.
While specific types of advance directives vary from state to state, three substantive decisions are made:
The appointment of an agent who can be designated to carry out health care wishes. This is also known as the durable power of attorney for health care.
Statements of choice about withholding or withdrawing life support and accepting or refusing nutrition and/or hydration.
Nomination of another to be appointed as a guardian if a court determines that is necessary.