Remembering Dad's Sacrifices
The bloom of a lilac bush makes this son remember his father
The lilac bush we planted when my dad, Jack Bradley, died finally bloomed this spring.
He passed away six years ago, and we mixed some of his ashes into the soil. My dad could be stubborn, so maybe that's why it took this long for the lilac to bloom. That's not as strange and funny as it sounds, and as the lilacs burst into a deep, dark crimson in early May, I felt the presence of my dad more than I have in the six years since he's been gone.
If the lilacs could talk, what would they tell me? Stories about my dad I didn't know? Or new insights into the ones I did know — the gloomy accounts of his unhappy childhood, the abusive father, the suffocating mother, the poverty, World War II, 26 jobs and never ever feeling safe and secure? Of never believing he was good enough to share 67 years of joyful marriage to my mom?
Or maybe the lilacs would simply say they were glad he was there to help them grow…
A Love Of Place
Thinking about my dad's ashes fertilizing the lilac bush reminds me of how we spread most of his ashes at Truax Field in Madison, Wisc. Originally known as "Madison Army Airfield," Truax Field was commissioned during World War II to train radio operators and mechanics, and by the time my dad got there in late 1943, a special unit had been established to teach guys like him to be radio operators on the big B-29 Superfortress planes. Those were the planes that firebombed Tokyo and dropped the two atomic bombs. But, like most World War II vets, my dad never talked about any of that.
What he did talk about was how much he liked Madison and the surroundings. Having grown up in inner city Philadelphia, he was especially captivated by Madison's four beautiful lakes. He'd rave about the city to my mom and told her that he wanted them to move there after the war. But he made the mistake one time of mentioning that local residents were "ice boating" on one of Madison's frozen lakes! She quickly put the kibosh on their ever moving to Wisconsin!
Ironically, 30 years after my dad left Truax Field, I arrived in Madison, having fallen in love with a wonderful woman who grew up here. And I've lived in Madison ever since.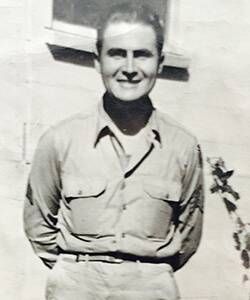 What The Flowers Mean
Before I moved my folks here in 2006, they'd visit us often. And every time they'd fly into the Dane County Regional Airport, my dad would loudly proclaim that he'd "returned to Truax Field" as he promised he would when he left in 1944.
Maybe the ashes we spread at Truax Field six years ago have eventually made their way over to this part of town, reuniting with those here in the ground that are nourishing his lilac bush? I wouldn't put any of that past my father.
But I do know this. The lilac bloomed this year.
And I have a couple of theories.
One is that the blossoming is a flowery congratulation from my dad for my becoming a grandfather later this summer for the first time.
The other is that it's a fatherly thank you since my new grandson will share the name Jack with my father.
Someday when he's older, I'll tell my grandson about the lilacs and his great-grandfather. And I'll know that the steps he takes will be like those taken over all the years by all of us. The steps that have led us here, to the yard where the lilac blooms.
Doug Bradley
recently retired from the University of Wisconsin Sytem, where he was the director of communications and currently teaches a course on the effects of popular music during the Vietnam War Era. Doug is a U.S. Army veteran and the author of DEROS Vietnam, a fictional montage of war stories set during the early 1970s. He also is a member of the Deadly Writers Patrol (DWP) writing group that publishes a periodic magazine which includes work by veterans of the Iraq and Afghanistan wars. Visit doug-bradley.com to learn more.
Read More