Meet The Old Gays
These four friends have become a TikTok sensation by just being themselves
If you are a fan of The Old Gays, you are not alone. The four real-life friends and LGBTQ rights activists have over 6.9 million followers on TikTok and a docuseries in the works.
What's the secret to their appeal? Darned if they know. "We are just being ourselves and are as surprised as anyone by the response to us and our message," says 78-year-old Robert Reeves. "I still can't get over it!"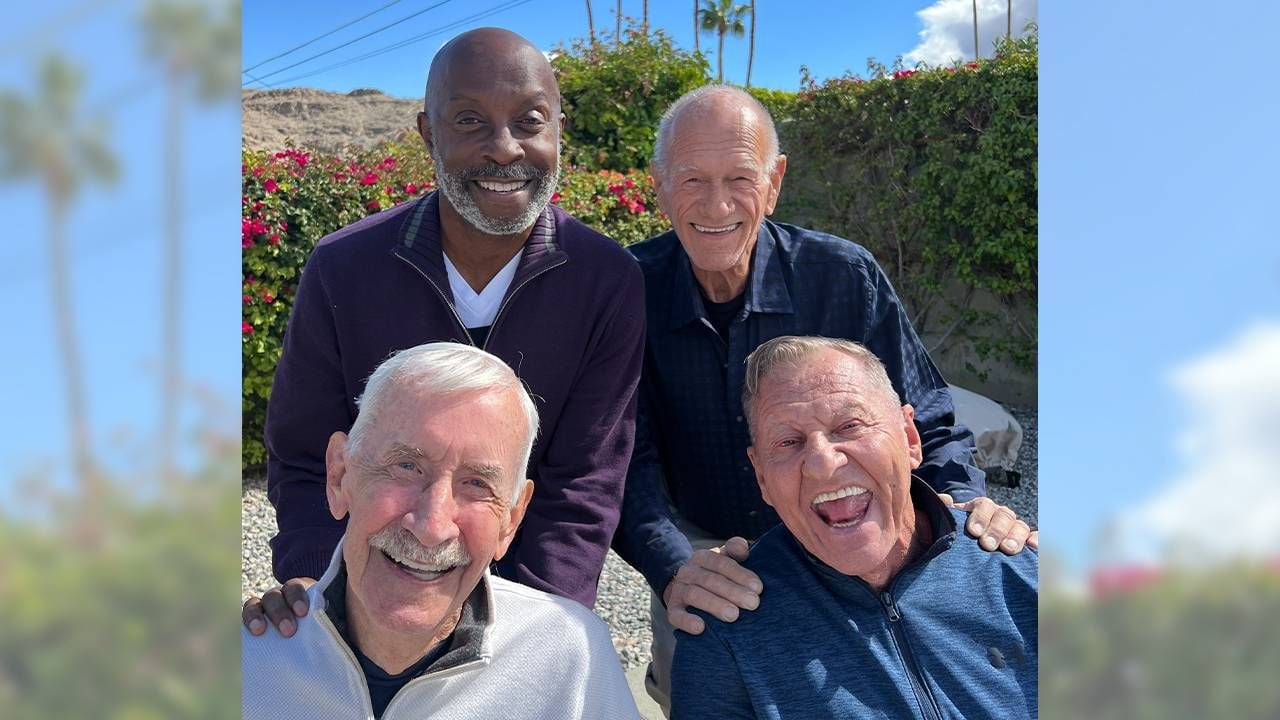 How They Met
Unlike the Golden Girls (to whom they are often compared), The Old Gays (best known by their first names) are not the product of a great casting director.
Robert met Bill Lyons, 78, in San Francisco in the 1980s and both moved to Cathedral City, California, in the 1990s. In 2013, the two met Mick Peterson, 65, when he rented a spare room at Robert's house. A year later, Jessay Martin, 68, moved in across the street. 
Bill now lives a few blocks away from all of them. "They refer to me as 'Down the Hill Bill,'" he says with a laugh.
"We aren't an act, " says Mick. "We actually are long-time friends who spend a lot of time together."
How They Became 'The Old Gays'
Five and a half years ago, John Bates, 36, rented a room in Robert's home. John's boyfriend, now husband, Ryan Yezak, 35, met them a few months later.
"We aren't an act. We actually are long-time friends who spend a lot of time together."
"John could not stop talking about the four of them," says Yezak. "He would tell me about their antics all the time, humorously referring to them as 'the old farts' and 'the old gays.'"
Yezak admits that he could not understand why Bates liked them so much. "I didn't talk to many older adults, and I didn't think I could connect with them," Yezak says.
But as Yezak got to know the four guys, he started to understand their appeal, saying, "I began to appreciate their organic chemistry with one another."
Bates suggested Yezak, who is a producer, document the men's friendship on camera, which is how "The Old Gays" began.
Yezak says, "In May 2020, I helped them set up on Instagram, Twitter and Facebook. In December 2020, I posted the first videos of them on TikTok just being themselves. By March 2021, the group went viral."
What It Was Like Growing Up Gay
Being gay today is a very different experience than it was years ago.
Bill explains, "I was a sophomore in high school and knew I was gay. I had to hide everything. I didn't want anyone to find out about me. I never even came out to my parents. Back then, no one asked, but I think they assumed."
Robert's story is similar. He says, "I grew up in Arkansas and was part of a rural Southern Baptist church. It was a closed society and I was taught not to speak about sex or my sexuality."
The younger two members of the group grew up in a different generation where things started changing.
"We were encouraged to be politically active. We had conversations about the HIV epidemic and gays in the military, changing people's perceptions of being gay," says Mick. "I was able to live openly. I came out to my parents and lived with a man for 25 years." 
The same was true for Jessay. "I lived in a small town near Nashville. I didn't feel questioned or judged. I was able to live authentically," he says.
Putting Their Own Spin on Trends
Only Mick is a trained actor who previously worked in Hollywood. The rest have never performed professionally, but that isn't a concern for them.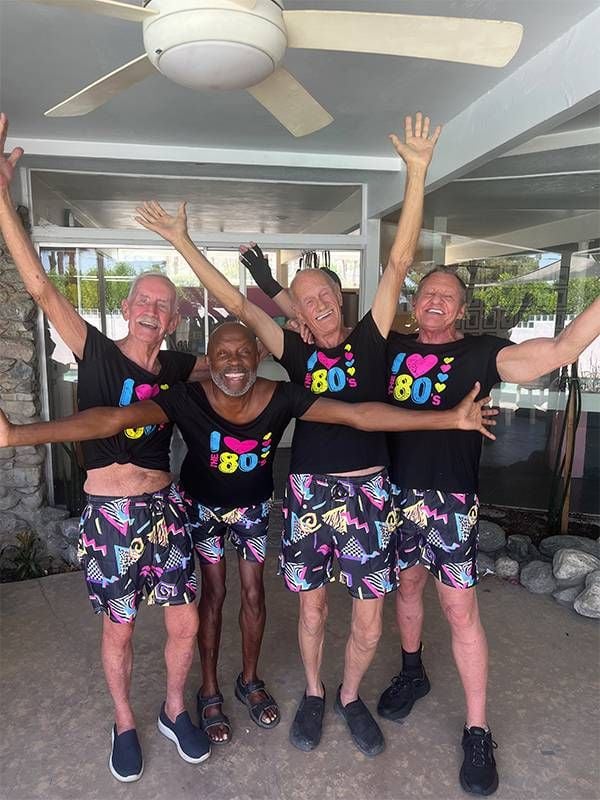 "We are very collaborative with one another," says Bill. Their videos range from the four of them just hanging out to Q & A interviews with Yezak. They also do elaborate singing and dance performances.
"We are inspired by the trends and like put our own spin on them," says Mick. While the TikTok trends and dances require a lot of rehearsals, the interviews with Yezak are done in one take.
"This is us," says Jessay with a laugh.
In addition to showing that getting older doesn't mean you don't know how to laugh and have a good time, the Old Gays also use their platform to do good. They are big supporters of The Trevor Project which supports gay youths in crisis.
Mick explains, "We did a video with a child who was gender curious and it was so special. Hopefully our content helps to educate people about the LGBTQ community in a way that is entertaining and upbeat."
Becoming Famous
Having a lot of followers online is one thing, but it's another level to be so famous that Paula Abdul wants to collaborate with you. "Dancing with Paula was so much fun," says Robert.
The quartet also felt the love when they attended the Coachella Music Festival in April.
Bill says, "Fans came up to us and said, 'The real stars of Coachella are here!'"
"I have never experienced so much genuine love. People were loving us like crazy — it was so yummy!" says Jessay. Adds Robert, "The statement that kept being repeated was, 'You're what the world needs now.'"
For Mick, having the opportunity to be part of The Old Gays is especially meaningful.
"I have an autoimmune disease and almost died a few years ago," he recalls. "Bob saved my life. I am so grateful to him and to still be here, period. But to be here and have a platform to speak to the LGBTQ community, especially the youth population, is incredible. And how wonderful to experience all this love, joy and happiness alongside my friends."
There is Still Work to Be Done
There has been a lot of change and positive progress in the LGBTQ community in the past few decades. But unfortunately, there is still discrimination. Robert says, "To see the reversal of so much progress concerns me. We always need to stay vigilant and continue to fight for ourselves."
"I have never experienced so much genuine love. People were loving us like crazy – it was so yummy!"
As much as recent legislation (including 18 states banning or limiting transgender teens' participation in high school sports and Florida's 'Don't Say Gay' bill) is upsetting, the Old Gays urge people not to give up.
"If you hit a wall of resistance, you are onto something," says Mick. "We need to keep going. We fought Anita Bryant's discrimination and we will continue to fight so we can move forward."
Closing the Age Gap
The Old Gays also acknowledge the ageism that can be prevalent in society.
"I see ageism existing in the commercial world," says Robert. "People sometimes assume I am not as sharp as I once was because I am older."
Mick adds, "Ageism is one of the reasons I moved to the desert from Los Angeles. When you get to midlife, like your late fifties, you seem to disappear into the background in LA. But here near Palm Springs, there is a big older community, and you feel a part of something."
In Yezak's view, judging someone by their age, whether young or old, is a disservice. "I have learned so much from the guys. Older adults have lived a lot of life, so they have a wealth of knowledge and experience to share," he says.
Conversely, the guys feel inspired by the younger generation.
"If you think you are too old for social media or anything really, you probably are. But if you are willing to be around younger people, keep learning and be open to new ideas, you can gain so much," says Jessay.
Adds Robert, "Being around young people energizes you."
"We keep evolving," says Mick. "What we are doing now is so satisfying. We don't know where this adventure is going to take us, but the not knowing is what makes it so great."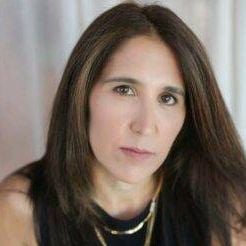 Randi Mazzella
is a freelance writer specializing in a wide range of topics from parenting to pop culture to life after 50. She is a mother of three grown children and lives in New Jersey with her husband.  Read more of her work on randimazzella.com.
Read More