Revisiting Childhood Memories, Both Happy and Painful
Making sense of a troubling childhood incident in adulthood
Oh, what I'd do for a bird's eye view of us cruising down I-95 in our big black boxy Ford, the only Korean family on the road in 1958. At the helm was my dad, looking very Desi Arnaz in those days — the hair minus the cha-cha-cha anyway. By his side was my mom, her left arm forever reaching back to hand me and my big sister treats,  ah, the sweet stuff of life: Juicy Fruit gum, butterscotch candies, Seven-Ups.
Not that I remember that ride, per se. At 3, I didn't know north from south the day we moved from Boston to Washington. Alexandria, Virginia, actually. Belle View Apartments, precisely.
New Home, False Impressions
A sprawling complex over several blocks, Belle View was a maze of brick buildings and courtyards so identical you couldn't tell one from another — surely only the postman could find his way out. Apparently, the Potomac River was a stone's throw away. But I never got a sense of water, only grass. Even now, I'm caught off guard when the smell of a freshly-mowed lawn transports me back to the grounds of Belle View, not because they were well-manicured, but because I was so close to them, knee high and steeped in grass and dandelion dust. What a beautiful blur of Matisse greens, yellows, whites. Nothing bad could happen here.
Our presence became known when rumors began to fly about my dad as if he emigrated from Red China, not South Korea. Well, this was the height of the Cold War era.
"Did you hear? He's a Communist!"
Turned out, I was to blame. Someday the story would become amusing family lore but for now, my parents took me gently aside:
"Don't tell people Daddy is a Communist, Frances. Daddy is an economist. Understand?"
A Troubling Incident
Through a dreamy lens: our white corner porch that overlooked a pool; a magnificent kite-sized yellow monarch butterfly fluttering on the rooftop next to ours, so Fellini-esque. I believed that it came back to see me every spring. To this day, some forever-young part of me is still looking up and waving. Hello, Butterfly! I'm down here!
In 1960, we left Belle View but stayed in the area, moving into a rambler, then a colonial — east, west, who knows, I never could read a road map. Then, in 1979, my dad died.
We were lost.
Once in a blue moon, out running errands or driving along the GW Parkway for scenic views of the Potomac, my mom and I would find ourselves near Belle View Apartments. A drive by, a sigh, that's all; first it was years, then decades, then half a lifetime ago. Somewhere along the way, a poisonous memory crept back to me like a black widow: I'll say I was 4, but I could've been 3 or 5 wandering around Belle View by myself, as this is what parents let their little kids do back in that mythically safer time. Just footsteps from my building's entrance, a gypsy-hiss: "Frances."
My brain coded her as Rose, a woman who lived in our building but in a basement apartment. Unlike my mom, so young and powdery, Rose seemed old and hardened as a coconut shell.
"Frances, do you like gum?"
"Yes."
Enticingly: "Guess what I have?"
"What?"
"A gumball machine!"
No doubt, my look of glee was a dead giveaway.
"I can show it to you, Frances. Come."
Rose took my hand. Maybe imagination is lending drama, but stepping down those stairs, I was engulfed in Hitchcock airs, through the dungeon-dark hallway and into her sunless apartment. But no matter, because lo and behold and grand as Oz: A gumball machine!
"Would you like one?"
"But I don't have a penny…"
"Don't worry. Just sit in this chair."
Rose placed the tip of my index finger into the lever's coin slot and before I could process what was happening, she executed her plan with a cruel smile by pushing the lever in and immediately swiping it across the machine. Finger jam-piercing pain-panic paralysis. She repeated her madness until I finally had the four-year old sense to hop down and run out of there.
Curiously, I didn't tell my parents about it. I blacked it out and if a scar formed, I never saw it. Maybe the idea of someone wanting to hurt me was too awful. Maybe seeing life through a dark lens was too ugly.
Memories, Monarchs and Monsters
One warm afternoon in recent history, my mom and I were out and about, not far from Belle View Apartments. For some reason, she had an urge to see our old place.
"Park there," she said.
Stepping foot on Belle View grounds for the first time since childhood, I fell into a fog, following her through a maze of cloned courtyards and buildings as she roamed around in circles or, rather, squares. In time, she gave up. Lack of coordinates.
"Can't find."
And then, like dust blown off some ancient map, my head cleared and suddenly I knew exactly where we were supposed to go: over to Potomac Avenue, where a second-floor corner unit sat perched in time. As soon as I saw the white porch, one of countless in Belle View, I felt knee high again. Rose never crossed my mind.
"That's it, Mom."
"No," she disagreed. "Where is the pool?"
Ah. My poor mom had been looking for a bygone landmark. Once realized, she checked the front of the building to confirm that the address matched the one in her memories.
And it did.
For some reason, I'm tickled by the spirit of that day, when the child-me wandered out of the grownup-me and, like my yellow butterfly, the powers of migration led us to our long-ago home. Horrific things happen to everybody, but let me slip into a prism and glorify the Belle View dream, not the nightmare. The monarch, not the monster. The latter can burn in hell.
Next Avenue Editors Also Recommend: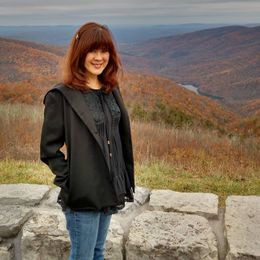 Frances Park
is an award-winning author of thirteen books, including her recent memoir That Lonely Spell (Heliotrope/March 2022). Her newest novel The Summer My Sister Was Cleopatra Moon (Heliotrope/September 2023) takes place during the rockin' summer of 1976.
Read More