The Blooming Effects of Flowers on Mind and Body
Flowers offer a mental health boost, whether you're creatively arranging them or just enjoying their beauty
Spring is in the air, with days longer, nights warmer and the anticipation of a new season abounding. Many of us have planting rituals marked on the calendar, others wait for perennials to poke through the defrosted winter soil, or maybe you purchase already-potted flowers to decorate your home with botanicals that breathe beauty into the surroundings.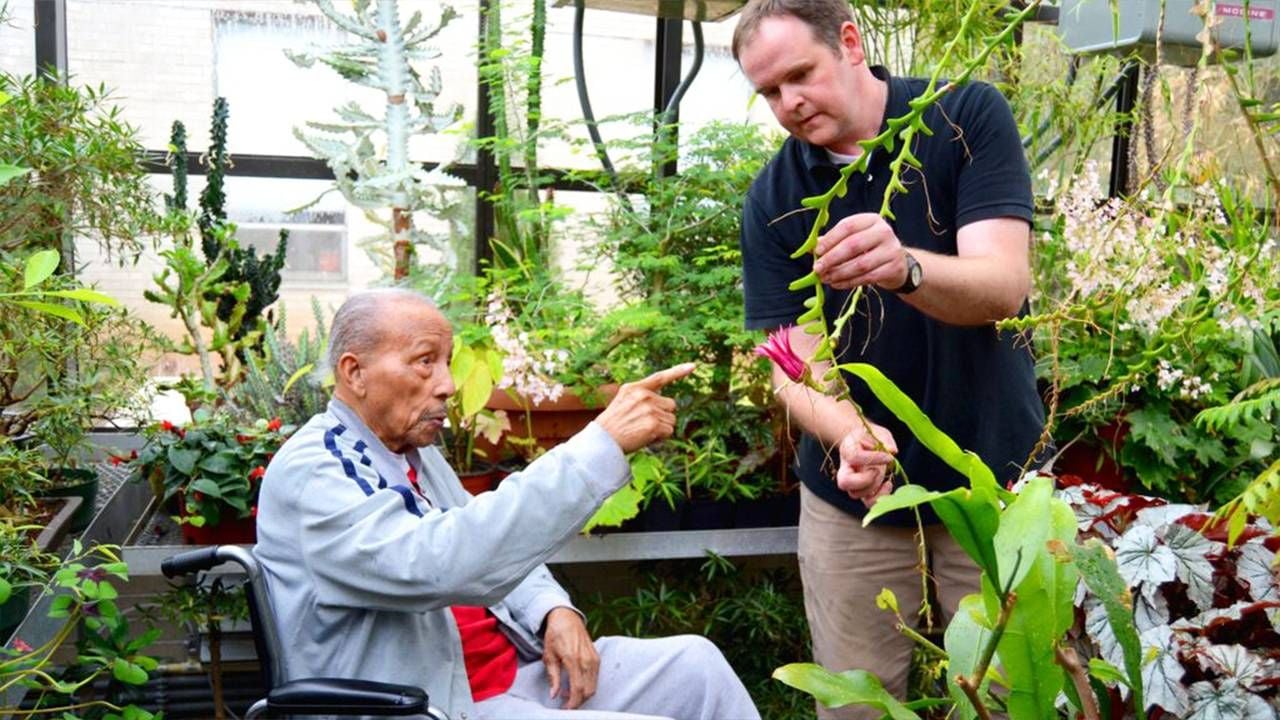 Yet, no matter how we gather these treasures, there is something about flowers that delight us whether we grow them, buy them or receive them.
Luther Burbank, a famous botanist, horticulturist and pioneer of agricultural science from the 1800's, once said, "Flowers always make people better, happier and more helpful; they are sunshine, food and medicine for the soul." Even that far back, experts were aware these jewels shower us with benefits.
Flowers Raise Your Spirits
Statistics show that the number of people suffering from stress, anxiety or depression continues to rise after the last two pandemic years. In addition to the importance of traditional therapy, plants and flowers are other proven methods for easing emotions.
"Flowers always make people better, happier, and more helpful; they are sunshine, food and medicine for the soul."
"Having fresh flowers around my home elevates me and if I get bogged down or feeling sorry for myself, just looking at my florals brings me back up," said Beth ElDorado from Golden Valley, Minn.
Science says we gravitate towards specific colors and smells, which release essential chemicals that help regulate feelings, heart rate, and even digestion. For example, variety stimulates dopamine, generating excitement and a sense of discovery; oxytocin is triggered by social support, making us feel connected; and serotonin is a mood and behavior regulator, leading to good feelings all around.
Loretta G. Breuning, author of "Habits of a Happy Brain," said "When all three of these hormones work together, it can give a person a real physical boost."
Wondering how to put these all into motion? "Go on a wildflower hike, visit a botanical garden, or study exotic foliage and see what a difference it can make," she said.
Flowers Create a Sense of Calm
"Flowers fill me with a peace of mind, whether working with them or communing with them at my windowsill, they're a gift that saves my sanity," said Carolyn Gibson while Zooming in from her room at A.G. Rhodes Cobb, a non-profit nursing home in Marietta, Ga.
Gibson, 82, attributes her love of nature to her grandmothers and considers planting as giving back to earth. Whether it is a special location to return to, or an activity that allows your mind to focus on the task at hand, flowers can provide a sense of serenity. Gibson lovingly refers to her hours spent nurturing her growing plants as her "Calgon, take me away time."
If you are feeling overwhelmed, consider creating an unusual ornamental arrangement to release positive energy or soaking flowers to extract healing properties.
Awaken the Mind with Flowers
It turns out that when combining a social activity with creativity and learning something new, the brain can actually build new cells.
"There is an extra opportunity for the brain to change through reorganization, also known as neuroplasticity, which allows the brain to adapt both structurally and functionally," said Suzette Barnett Binford, therapeutics program manager at the Emory Brain Health Center in Brookhaven, Ga.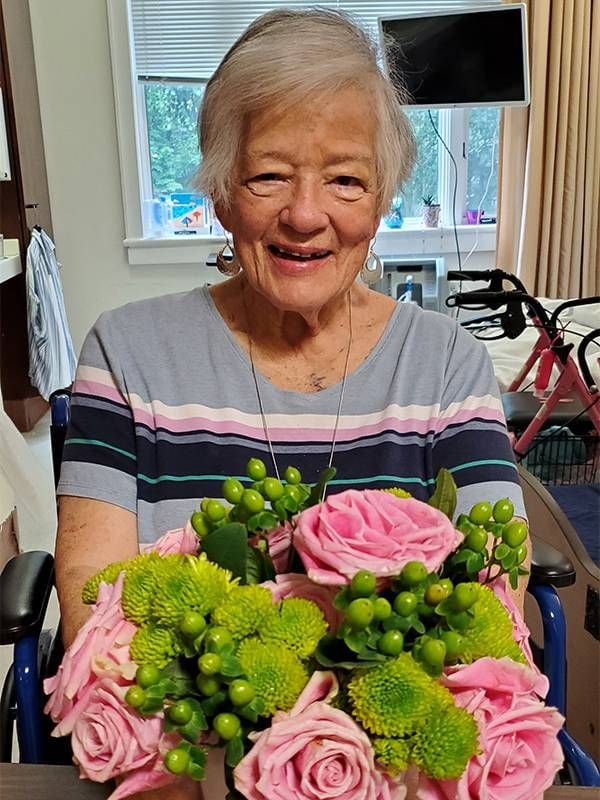 Multitasking can be incredibly beneficial for anyone at any age, but especially so for those who suffer from cognitive impairments.
Kirk Hines, a registered horticultural therapist at A.G. Rhodes Cobb, puts all of this into daily practice with his residents.
"Clients spend time in greenhouses, assist with plant care, or simply take in the florals to increase activity level, connect with others, or decrease depression," said Hines.
Gibson is fortunate to attend weekly horticultural sessions with Hines. As a result, she and her neighbors have an opportunity to plant from clippings, tend to buds, and learn about different flowers.
"Having a job, whether it is watering flowers or simply providing adoration, is a responsibility that also helps keep a person's mind relaxed, even if they don't know it at the time," said Gibson.
Flowers Bring Memories of the Past
"Smells have a particular ability to evoke memories that have a visceral emotional impact," said Pamela Dalton, clinical psychologist with the Monell Center, an independent scientific center in Philadelphia dedicated to research on the sense of taste and smell.
But why you may ask? Research shows that the olfactory bulb and amygdala are closely linked to one another — "the act of smelling triggers emotions in our brain, even before we recognize them," Dalton said.  
"Flowers bring a sense of life while reducing stress experienced by patients and their loved ones."
ElDorado concurs, saying that "powerful aromas can transport me back in time," For her, it was a high school trip to Spain where blooming orange trees lined the streets of Seville. Now, anytime she gets a whiff of orange blossoms, happy scenes replay from a time long ago.
Unless you have a serious allergy to pollen, Dalton recommends exercising your sense of smell by spending time breathing in different scents for 30 to 60 seconds each day. "Nothing is more tranquilizing and relaxing than olfactory stimulation," she said.   
Flowers Can Hasten Recovery from an Illness
As a former OR nurse, ElDorado has seen firsthand how flowers cheer up people who are suffering, as well as cheering up their loved ones, during hospital stays. According to research at Kansas State University, fresh flowers placed in a patient's room resulted in faster recovery rates, fewer pain medications needed, and decreased anxiety levels.
"Flowers bring a sense of life while reducing the stress experienced by patients and their loved ones," ElDorado said.
The Universal Language of Flowers
Giving flowers has long been a tradition for both happy and not-so-happy times. Used when words can't be found, or to serve as reminders when voices fade away, flowers speak volumes in expressing love, grief, kindness or remorse.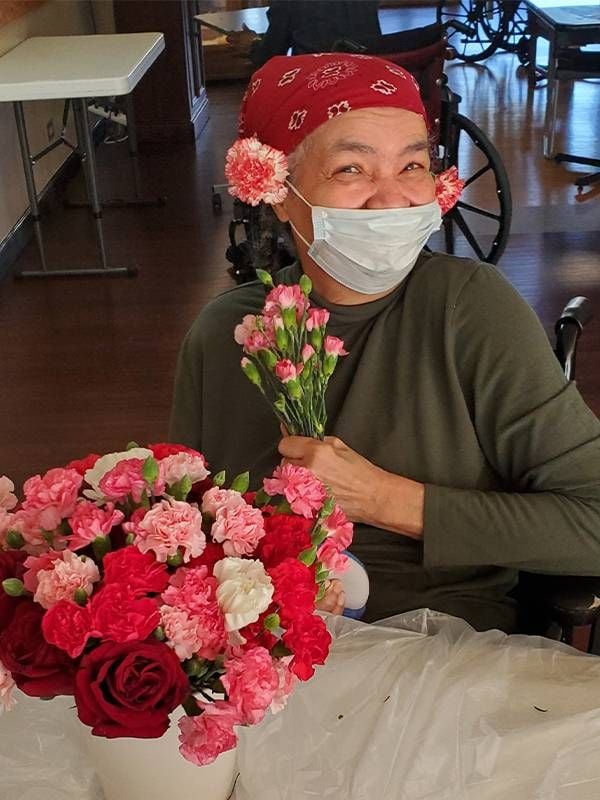 The anticipation of receiving a dozen roses on an anniversary, an annual orchid plant on Mother's Day, or a Peace Lily after losing a loved one, are all ways of connecting us to the idea of rebirth, seasonality, and the cycle of life. Whether the sender or the receiver, the message conveyed makes us feel closer to one another.
Indulge in Self-care with Flowers
"Buying flowers for yourself is an investment in yourself," said Breuning. Depending on which area of the world you live in, access to fresh flowers has improved over the years, and you can now find a fresh bouquet at your local grocery store for less than $10.00.
So, treat yourself to fresh flowers, selecting colors and fragrances that appeal to you, for about the cost of a cup of coffee (and less than a massage).
Tip: After removing the stems from the packaging, cut the ends, remove the green leaves and place each flower one at a time into a fun container or vase. The mere act of arranging flowers is another known method to calm the senses. Plus, they will look better and last longer.
Fake Flowers are Okay, Too
"If you haven't killed a lot of plants, then you just aren't trying hard enough," joked Hines. While not a proponent of faux flowers, given his career choice, he admits that adding greenery and objects that emulate nature can also bring pleasure.
Like many things, fresh flowers or plants may not be for everyone for a variety of reasons. However, artificial silk arrangements have improved drastically since the fake carnations that adorned your grandmother's kitchen.
Another effective option is art therapy, incorporating florals and/or other visually appealing designs into creative mediums such as painting, coloring, or origami, which can all help soothe your soul.
Equally important, flowers and plants improve air quality, absorb carbon dioxide and produce additional moisture, all of which improve our living environment. Infusing these wonders smells like a great way to enhance our everyday lives.