Opinion
OPINION: 2020 Election: Where Are the Debate Questions About Aging?
What the Democratic presidential hopefuls haven't talked about, but should
With the next Democratic presidential candidates' debate on television tonight (CNN at 8 p.m. ET/ 7 p.m. CT), it's worth noting something missing from the earlier debates — questions and answers about aging in America. (There have been more than enough questions about the age of the candidates, bordering on ageism.)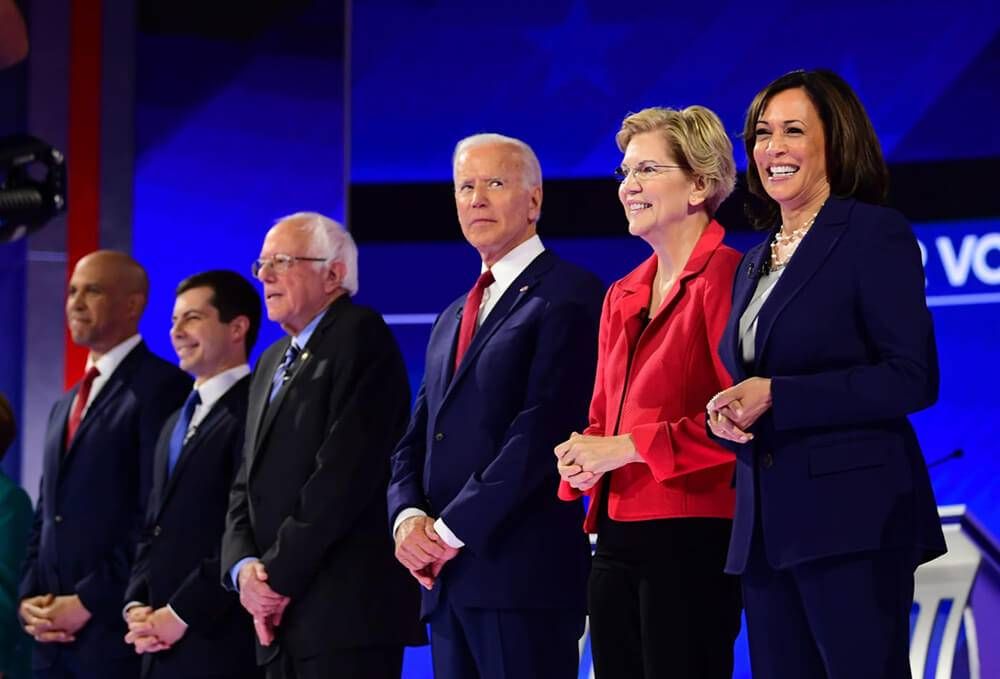 What exactly has been missing?
To start, the Democratic presidential hopefuls' plans to address economic security in retirement haven't been discussed.
For example, what are their visions for the future of Social Security? Who has a plan to let more older adults work who want or need to work? Who is advocating for protecting and bolstering the safety net for older adults, beginning with the federal government's Supplemental Security Income (SSI) program for low-income aged, blind and disabled Americans?
Questions Missing From the Democratic Debates
Here are a few other questions that haven't been asked or answered:
There have been missed opportunities to address key topics related to aging, too. In the recent LBGTQ Town Hall debate on CNN, for instance, none of the Democrats raised the double jeopardy (female and LGBTQ) and triple jeopardy (female, minority and LGBTQ) that many older LGBTQ adults face.
With each passing election, the older voter grows in importance. Older voters will likely represent 23% of the voting population in 2020, including millions of boomers.
Yes, most of the candidates have offered their views on Medicare for All. Yet this discussion has been mostly about how the Medicare program could be replicated to give people of all ages insurance coverage — something older voters care about for their children and grandchildren. But for some older voters, Medicare for All is currently not a winning issue; for example, those with children and grandchildren who would lose private insurance coverage may not be happy.
Ultimately, older voters care more about seeing Medicare Covers More: expanding the federal insurance program for people 65+ to cover long-term care services and supports as well as hearing, dental and vision care. The single-payer plan championed by Sen. Bernie Sanders covers all these things, but Sanders and the other candidates who support it have not been touting this coverage — arguably to their detriment.
Yes, lowering prescription drug costs has come up in the debates, but there's been nearly no talk about placing a cap on the out-of-pocket costs older adults pay under Medicare Part D.
Why the Silence of the Dems?
Why have these issues been missing at the debates? Why haven't Democrats sought to regain the support of older voters, who've voted Republican overall in every election since 2010? Why haven't they seized on the momentum of the midterm elections, which brought the House back to a Democratic majority through discussion of key kitchen table and intergenerational issues like health care?
With each passing election, the older voter grows in importance. Two-thirds of them voted in the 2018 midterms (vs. 53% of the overall voting population). Older voters will likely represent 23% of the voting population in 2020, including millions of boomers.
A recent Pew Research Center poll referenced in a July 2019 New York Times article noted that "boomers now identify with the conservatism of the Republican right more readily than any other political ideology." If so, Democrats might want to redouble their efforts to win these disenchanted older voters by clearly articulating in the debates how their party will ensure the protection of Social Security, Medicare and Medicaid. That's especially true as they emphasize regaining votes from working-class voters in Rust Belt states, many of whom are older and financially insecure.
Is the candidates' reluctance to raise aging issues and offer plans and solutions a fear of appearing to cater to older Americans at the expense of other age groups? If so, that's a failure to distinguish between catering to a group and competing for the votes of a group. The need to compete for the older voter should be a motivation to all candidates.
The Debate Moderators Share Some Blame
The candidates are not the only culprits, though.
The journalist moderators also bear responsibility for not posing questions related to aging policies (one distinct and great exception: the recent AARP Iowa forums covered by Next Avenue, where three-quarters of the Democratic presidential candidates answered questions about key issues for older voters.) Perhaps the CNN and New York Times moderators at tonight's debate will step up.
The presidential debates, even with their sometimes-chaotic nature, should raise more than the issue du jour for candidates to address. The organizers of future debates should begin identifying questions that can allow a presentation of plans and visions for aging policy.
A Few Questions I'd Ask the Democratic Presidential Candidates
If I was a debate moderator, here are some questions I'd ask:
What would you propose to help the 40 million family caregivers in the United States?
Since long-term care is the biggest unfunded liability facing the boomer generation, what is your specific plan to address this issue?
Do you believe that the Affordable Care Act has made Medicare stronger? Why? And what future reforms would you make to Medicare to keep it strong and fiscally viable?
Earlier this year, Social Security hit a troubling milestone: retirement benefits paid out each month exceeded the revenues and interest that fund the program. If you are elected president, how will you address the future solvency of Social Security?
Do you believe ageism in America exists? What do you do as an individual to combat it? What would you do as president?
In 2020, three Great Society programs — Medicare, Medicaid and the Older Americans Act — all turn 55. They were produced in a Democratic administration and have had a profound impact on the lives of millions of Americans. These laws came about in response to confronting the aging of our population.
Fifty-five years later, this demographic revolution has taken full hold. It is time to move aging policy to the next level of impacting people's lives. Silence is not a policy option.
In other words, speak up, Democrats — starting tonight.
(The views expressed are personal and do not reflect positions of organizations or associations that Matz Blancato or Bob Blancato are affiliated with in any capacity.)
Bob Blancato
is national coordinator of the Elder Justice Coalition, a national advocacy voice supporting elder justice in America, and president of Matz Blancato and Associates. He is a 2016 Next Avenue Influencer in Aging and winner of the American Society on Aging's 2020 Hall of Fame Award.
Read More